Can we request songs for you to sing?
Yes, of course. I'm happy to take requests either before hand from yourselves or from your guests on the day or night. You can navigate through my song list on the website and add selections to a request / set list that gets emailed to me from the site. All the songs are split out by artist and style / mood which should help you make a selection to suit your requirements.
Also I advise people that a nice personal touch can be to add a section to your wedding invites to ask the guests for any song requests for the entertainment. If I don't perform the song we can always add it in the disco if applicable.
How many songs should we request?
Generally speaking a 45 minute set would include about 12 songs. Depending on which set you are requesting for I would also ask that you leave a little maneuverability so that I can take requests during the performance as well include the songs that I know work at certain stages of the party.
With that in mind I would always suggest that, for an afternoon spot, feel free to choose all of the 12 songs, for the evening (silver packages and above) try and choose around 15 songs and I'll work in the rest. If there are songs that we don't fit in the live section we can always include them in the disco.
All requests can now be submitted via the 'My Booking' area.
What is the 'My Booking' area?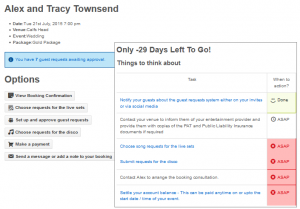 This is a system I've introduced that allows you to login and view and manage all aspects of your booking 24/7.
Features include:
24/7 Access to your booking information.
The ability to easily submit song requests direct from the song list
Submit requests for the Disco
View and make online payments (Secured by PaymentSense)
Access to the Guest requests system which allows your guests to submit requests to your booking which are then available for you to approve.
Access to Public Liability Insurance and PAT certificates.
How does the Guest Request system work?
This is a popular tool that has been requested by many previous bookings. Effectively it provides an area where your guests can login with a preset password and date of your event and then submit requests direct to your booking. The idea is that you may send this Guest Request link, along with your preset password on your wedding invites and ask them to submit request direct to your booking. They can choose upto 3 songs for the live performances direct from my song list and also upto 3 songs for the disco.
You will be notified by email automatically whenever one of your guests log in and then you be able to view these requests and approve them to be sent through to me.
I have created a video that demonstrates the requests system which you are welcome to view and share. Watch Now.
How many songs would you perform during the ceremony performance?
The ceremony performance will  usually consist of a total of 5 /6 songs these include:
1 or 2 Songs whilst the guests are seating
1 song for the isle walk (can be chopped or edited to best fit the brides arrival at the altar)
2 songs during the signing of the register
1 song to walk out to
The song we want isn't on the list, can you learn it?
I'm always happy to learn new songs that would personalise the entertainment for you. I normally would have to limit this to one per booking but if you have a special song you would like for the first dance / ceremony I'd be happy to work on an arrangement for you. The arrangement would always be my interpretation of the song  done in a way that would best suit my act but where appropriate I'll always try and send you a recording in advance of the performance to check that it is what you are looking for. I've learnt a whole range of specific songs from Cheryl Cole to AC/DC and even one written by the groom himself as a surprise for the bride.
What does the face to face consultation entail?
The face to face consultation usually takes place about a month before the booking. This allows us to meet each other  and look at putting together a program to make sure you get exactly what you want from the entertainment package. We can discuss anything from a running order to song requests. It also gives me time to learn more about you and your guests. The face to face consultation usually takes between 30mins to an hour and we would usually meet at a cafe / bar somewhere in between both of our addresses but must be within 30 Miles of Blackburn, Lancashire. If a face to face meet isn't suitable we can also arrange a video chat via skype or have a phone call consultation, whatever works best for you.
One of our party would like to sing with you, is that ok?
I'm always happy to get people involved in the performances and if you as the person booking the entertainment are happy for people to join and sing a song or 2 with me then so am I. I find it is a great way of bringing your guests in to the party and making the entertainment more personal.
When you say you work as part of a team what does entail?
As thankfully I've been getting busier over the years, performing at the number of functions I do can sometimes be quite demanding which why I know employ team members to assist me through the various packages. I am always at the front of each package and supervising each aspect of the booking but these team members enable a very smooth flow to the programme and speed up and setup or pack down procedures. These team members tend to be our DJ (who works at all evening solo weddings with me) and technicians who assist in the setting up of equipment as well as filming various aspects for the highlight videos we post regularly. All team members will be smartly dressed whilst on site and will be wearing clearly visible "Alex Birtwell Entertainment Services" or "FAB Events" work wear.
What do you wear at a function?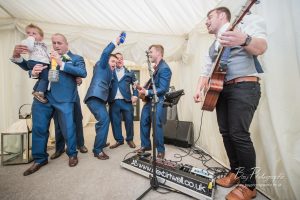 As with the other team members, band members or DJ, I always load in and finish off the night in branded work wear which makes it easy for venue staff and organizers to know who we are and what we are doing. During any front facing aspects of the day such as performances / hosting – both myself and band members (inc DJ) will be wearing a Shirt / Waistcoat combination with Dark / Black Jeans or Trousers which always gets complimented to be a "Smart" look without blending to far in with the guests. It's often worth mentioning that after the second live evening party set, we tend to change into our branded T-Shirts again for the finale as trust me with the energy and sweat that comes off the evening performances it's for the best! We have in the past been able to customize our attire to your theme or if you have any questions or concerns with our usual clothing wear please do mention this during the consultation.
When do we have to pay the final balance?
The final balance can paid at any point before the booking as long as funds have cleared before the start time of the entertainment. Usual practice is that the full balance is paid a week or two in advance of the event or in cash on the day. I am also happy to allow early account settlements or arrange for instalment plans to be made. I will also send you an updated booking confirmation with the new account balance upon receipt of any payments.
What happens in the event of a cancellation?
When you make a booking you are agreeing to the Booking Terms and Conditions. These terms and conditions include various cancellation clauses designed to protect both the Client and Performer. Restassured, please note that to date, Alex has not cancelled any private booking. If you are unsure about anything mentioned in these terms and conditions please give me an email or call.
We want to book you! What's next?
Superb! Visit my booking enquiries page and drop me a line to check my availability.
If I am available, I do require a 20% deposit to secure the date which can be paid easily online. Payments are secured via Payment Sense. There is also a simple online booking form where you can submit the details and check the package and agreement. Upon receipt of the deposit and booking form I will put together a booking confirmation for your records and provide you a login to the 'My Bookings' area where you can manage all aspects of your booking.
From then we'd arrange to meet up for the consultation nearer the booking date and tailor your chosen package to your special day. As stated above, the final balance can then be paid anytime on or up to the start date of your event either Online by Card, Bank Transfer, PayPal or Cash. Cheques. Payment is required 7 days before the start date inidicated on your booking confirmation.