So a little bit about ME, 'Alex Birtwell' and our personal service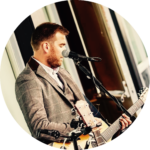 I LOVE weddings and I LOVE music having performed at way over a 1000 weddings now and had the pleasure of touring and gigging all over the world in various forms!
From writing music and performing in bands of all types, since being a young teenager, music has been a constant for me whether it was on the drums and song writing in my earlier years to now being more guitar and vocal based, to quote a pun of a recent TV show, MUSIC-IS-LIFE!
When you book ME, it is ME that will be there on your big day working as hard as I can to deliver your dream vision and the atmosphere you desire for all parts of your day. Even when our DJ is commanding the dance floor I'm still close at hand to make sure everything is as we planned.
When we meet to plan the entertainment you have booked it is ME who will be there to discuss everything with you and to be honest, most couples biggest surprise after our meeting is about the level of thought that goes into the programme of the day. When you book entertainment with us it's not just about song choices, it's about the atmosphere and party you want at various stages of the day, it's about the key guests you want to involve, it's about ensuring that what we deliver to your day is as natural and "non-cheesey" as possible.
I want everyone to walk away from YOUR wedding and say its was at least a "GREAT" wedding however that isn't good enough for ME and it shouldn't be for you. I want your key guests and closest friends to walk away from your wedding and say it was the BEST WEDDING they have ever been to and more importantly that it was 100% your wedding! That's what I and WE strive for!