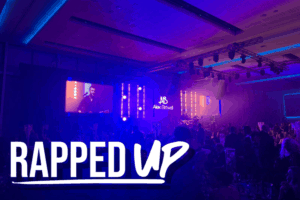 Alex is excited to offer his alternative to the duo and solo packages to perform with his Party Band, 'Rapped Up'. This band has a wealth of experience having played at various functions world wide. Why not add the WOW factor to your entertainment package.
Creating the ultimate party experience with superior production, explosive sound and a natural ability to engage the crowd!
The band is a collection a professional musicians who perform as solo acts as well as with the band. Because of this it means that the band doesn't just have 1 lead member but a shared lead vocal role giving you different voices which suit each style differently and keeps each song sounding fresh.
T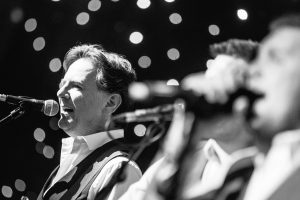 he band will always feature Alex and Lewis Birtwell at the helm backed by a host of other great performers to make up this 5 piece Live line up!
There is also an option to include live Saxophone to really add that sparkle. Drums are always known as the troublesome instrument when controlling noise levels however not for us! We use a top of the range Roland Electric Drum Kit which gives us full control of the levels without comprising on the quality of sound.
With a broad collection of rock anthems and pop classics taken from Alex's own repertoire, the band's set list will aim to keep your guests wowed and dancing all night!
Preview the bands current repertoire here although we do often ad lib in the moment.
Need more convincing checkout some of our latest Facebook Reviews?
More available at www.facebook.com/alexbirtwellwedding/reviews.
What does the evening entertainment package include?
Live First Dance Performance acoustically performed by Alex or the band (acoustic rendition learnt if not featured on the song list).
2 Live Band Performances (around 45 minutes – 1 hour each).
Free DJ & Disco Service with Lighting Show.
If you've already got a DJ included with your venue which you'd prefer to stick with, no problem, we can work with them making sure both DJ and Live performances compliment each other and work on a programme with you to make sure you get the evening party you want!
What does a usual programme for an evening party look like?
The following is an example based on an evening start time of 7:30pm and a music curfew of 12:30am.
6:30pm to 7:30pm – Load in and setup
7:30pm to 8:30pm – Background Music and welcome
8:30pm – Cake cutting and first dance
8:30pm to 9:15/30pm – Live performance
9:15/30pm – Evening buffet and DJ Service
10:15pm to 11:15pm – Live performance
11:15pm to 12:20am – DJ Service
12:20am – Finale and send off
For pricing and information visit the packages page or contact Alex today.