Welcome to the wonderful world of weddings! There's so many different things to consider when booking your wedding but they all hinder on the venue you choose to host the big day! The thoughts below are totally my own and based on experience and obviously biased from an entertainment stand point but I do still believe they are very important factors.
Your wedding day is one of your biggest and most important life events and it is imperative that you enjoy the journey of planning as stresses can really build up if you are not careful. The financial and emotional expense of planning your dream day can be daunting which is why putting time aside to plan out your ideas before jumping straight in is always a good start!
Choosing your wedding venue is almost like buying your first or forever home, in that you should immediately get butterflies when you first walk in. You should feel comfortable and relaxed when meeting the coordinators and the team.
There are so many amazing venues with an experienced and friendly team to match that you can feel spoilt for choice.
This is also the same for wedding suppliers such as photographers, videographers, entertainers, DJs, venue dressers and more. You always want to have confidence in them to ensure you have a great relationship through the planning journey because let's face it, they'll likely be enough family politics and stresses involved in the guest list and table plan decisions and let us not even mention the choices of bridesmaid dresses and trying to keep everyone happy on that front.
Your venue coordinator is the one supplier you will likely spend the most time chatting with in the planning journey, and to be fair depending on your entertainment preference and if you book ourselves, I'll likely be high on that list as we plan and tailor a programme to suit.
You'll also want to check the original and independent reviews from previous couples the venue have and this is also a good rule to follow for all your suppliers. A good port of call is Facebook recommendations / reviews on their page, Google reviews on their Google listing, Trip Advisor or Trust Pilot.
So we've established getting a feel for the venue and it's team is a pretty important factor in choice, and that previous couples reviews can be very helpful however for me these aren't the biggest factors to affect your wedding venue choice.
A wedding for most people is a party and I'm sorry to say not all venues allow or are equipped to deliver that for you.
If the entertainment and party atmosphere is low down on your priority list then do not worry but if a party is what you are looking for then there are some pretty important questions you need to ask before considering placing that venue on your short list.
Does the venue have any noise restrictions?
Noise restrictions or Noise Limiters are the biggest culprits for crippling the atmosphere and party levels at any wedding. Noise Limiters are a hardwired piece of equipment that if volume in the room exceeds a certain level it will cut the power to the sockets used by your entertainment.
Some venues have noise limiters set to a level of 95db or above which is absolutely adequate for a band or entertainment to fill a dance floor and keep the energy levels high. Others however have limiters set at 85db which unfortunately is so low that the moment you have 50+ people holding a conversation in a room your "entertainment" becomes background which really isn't what you want, sadly we have learnt the hard way that this is not a solution and unfortunately your wedding day will greatly suffer if left to compensate with this. Not only that but imagine the embarrassment when your performer or DJ is playing your first dance your guests cheer, clap or sing along, the volume level pushes with the feel of the song performance and all of sudden the music and lights cut out… this happens and yes this can happen just from the volume of your guests. Not only that but when faced with working with these devices, instead of concentrating on performing and the party, we as performers or DJs are constantly staring at this traffic light system and trying to adjust on the fly to ensure it doesn't trip. It is a huge distraction. With live music as well frequencies and volumes change based on the parts of the song the energy of it etc. the music and frequencies never ever stay at one level. We also invest thousands on using high end and quality sound equipment and sadly to try and maximise volume we have to cut out bass frequencies and the depth of the sound because these devices are more sensitive towards lower end frequencies. Thats why unless it is a venue we already have a relationship or agreement with we will not at all work with any noise restrictions below 95db as we do not feel we can deliver the party to our best ability below this. Likewise for any venue that forces use of an in house sound system that doesn't meet our minimum standards.
Sadly even recently I have had couples enquire with us for entertainment after booking a venue like this and they hadn't at all been told about these limitations before booking and all the mention is hidden away in terms and conditions meaning it's likely too late to make any changes and you'll have to put up with it or lose deposits or suffer additional financial penalties.
I will be putting forward a more Noise Limiter focussed write up in the near future.
Can we have outdoor music in the daytime?
if you are lucky enough to be getting married with fantastic summer weather, both you and your guests will want to enjoy certain parts of your day outdoors such as your drinks reception. We have portable powered PA systems to be able to provide our live performances outdoors for these sections and my solo loop act does require to be amplified. It's always good to check that amplified music is allowed outdoors and if there is a curfew.
Can you choose your own suppliers?
Most venues have a recommended supplier list which can be a great help for consideration as you know these suppliers have been vetted by the venue already and have experience of working there. There are however a very small number venues have an approved supplier list that you have to use if booking their venue and some that if you wish to use non recommended suppliers you must pay an additional fee. There are valid reasons for this in some instances i.e. their trusted suppliers have additional agreements in terms of setup and clear out times, can and have worked seamlessly with restrictions they may have in place etc. however sadly in others I've experienced it's because the suppliers are only on that list because they've agreed to pay a kick back per booking and can be a money making scheme.
What time is last orders and music curfew?
The perfect end time for a wedding party in our opinion is 12:30am but we do offer our service till 1am where the venue allow it and the party is still bouncing. Some venues have earlier curfews than this. 12am is fine as an all round curfew but any earlier can feel like the party has just got going and feel incomplete when the time comes. Our live set performances usually finish by 11pm and we follow with our DJ service and sometimes club Sax if that's an additional option you have requested. Some venues have restrictions that all live music has to finish by a certain time or that music has to move to background music by a certain time. These are all factors to consider based on the party you want.We always play the party as opposed to the clock and want to finish your wedding day on high with a big finale with as many guests as possible.
Conclusion
If by the end of these questions you are happy with all the answers received and also that you have that special feel for the place, you can be rest assured that you have made the right choice and you can start really enjoying the planning process without any major surprises on that front.
if you are unsure about whether we can provide our services at a particular venue then do please reach out and ask the question and we would be happy to help. We do have great relationships with a lot of the popular local wedding venues in and around Lancashire and the Ribble Valley and even those that have noise limiters we have devised ways to make sure we can still deliver the party vibes for you.
About the Author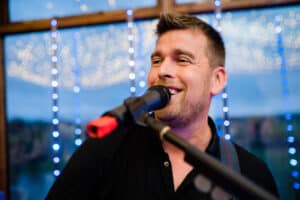 Alex Birtwell is an award winning and experienced musician and entertainer having worked well over 1000 weddings and events, world-wide, professionally since 2008.