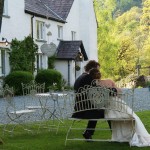 Caroline and the team at Cote How specialise in accommodating small intimate weddings at their 16th century venue. Exclusive use of the house also include 4 acres of grounds, with an adjacent field to the lake shore of Rydal Water, the Bluebell woods and the River Rothay. A picturesque wooden footbridge leads to Rydal church 200m away. There are few venues with a more perfect setting for wedding photographs.
Every wedding is unique, and as experienced wedding planners and events organisers they are on hand to help ensure that your day is exactly as you want it to be. They have boundless enthusiasm, innovation and creativity, ensuring your day is truly amazing, whatever your inspiration!
Alex will work with Cote How to provide the perfect entertainment to compliment each stage of the day, whether it be as part of the ceremony, in gardens for the drinks reception or in the barn for the evening party, there is no greater match for a real personal approach and intimate wedding celebration.
Visit the Cote How's website for more details or contact Alex via the bookings page.