Uncategorized.
Song Request Recorded (Single Instrument – Acoustic)
Many couples have been asking about me providing a more professional recording of their first dance or important song to treasure after the day has gone so here it is!
This product is to record an Acoustic Version of your specified request which must be taken from the song list or as a first dance I have previously performed.
This will be a more acoustic recording with 1 or 2 guitar / vocal layers mixed to a high standard and delivered as an MP3 file at 320kbps.
if you want a more produced recording with additional instrument tracks and vocal layers please see the additional products available.
Here's a sample preview of a previous order of this product.
And we've already been receiving great feedback on the existing purchases.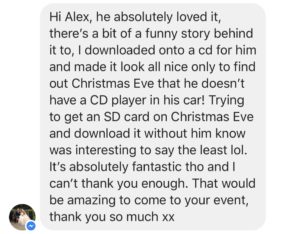 *delivery time will be upto 3 weeks from the order date. You can download and redistribute the finished recording for any non-commercial use. You may not resell this MP3 in anyway. Alex Birtwell will remains the owner of the recorded material and will be free to use in anyway.