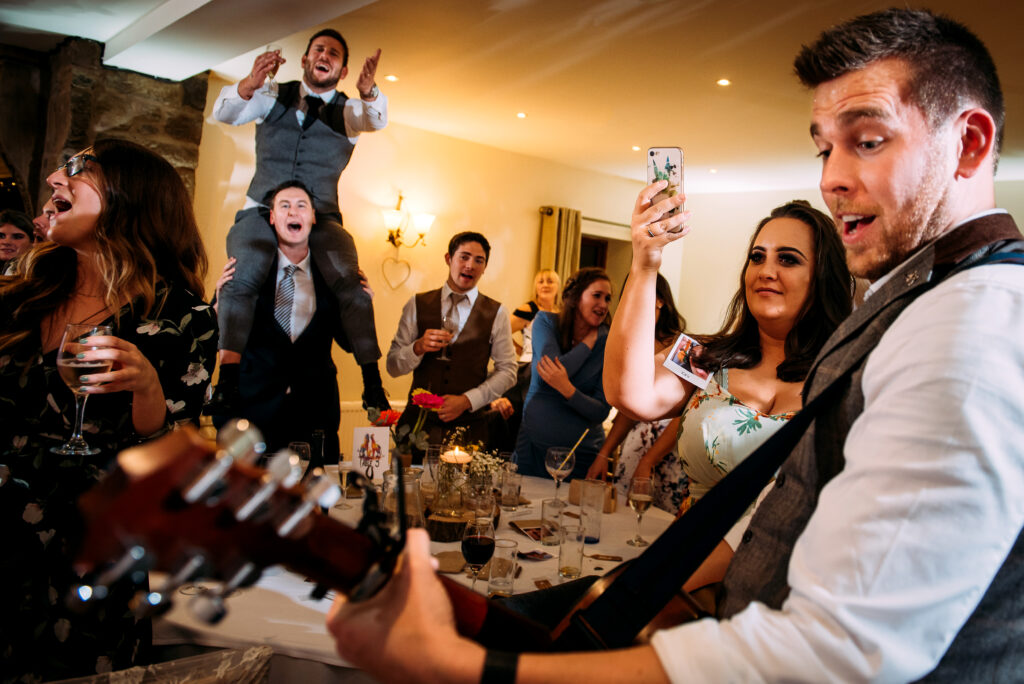 So we have some great news!
We've been able to provide some amazing wedding entertainment during COVID restrictions, all as a one man, one stop entertainment service! The weddings we've delivered this approach with recently have received some amazing reviews and feedback already.
What are the current restrictions?
Well these are the main points that concern entertainment for areas that allowed wedding receptions?
No dance floors.
Guests are to remain seated (or at least at tables when indoors).
Music should not exceed levels that encourage people to shout to be heard.
Guests should not sing or dance.
The clever wording here is where we use 'Should' this is also what the government has worded and summarised as:
Where the guidance states that an activity should take place this is not a legal requirement, however it is strongly advised that consideration is given to following the advice being given to reduce the risk of transmission of COVID-19.
So in my opinion and the common opinion of multiple venues I've been working through this with, if we work together with the venue we can have peaks for raising volume for the live performances bu this is very much at the venues discretion and ruling. The hosting elements of the packages can still feature all the fun and games albeit we can't really do the group sing along that I tend to include. 
I've always been interactive in my live performances and having worked on many weddings and parties for the smaller numbers it provides a much more intimate experience / atmosphere and that is something we can definitely do here and play towards. Turning each song into a request and turning the emphasis away from keeping people dancing to keeping people engaged and enjoying the show. With a mobile app request system where guests can login from their table to view the song list and submit requests directly to me from their seat we really are keeping them involved safely.
Aside of not being able to encourage singing along, if we work with the venue and people are social distancing having the odd elements can still be ok. I have some great lighting setups to stage the smaller show environment so as well as the music and interaction we can certainly still create a WOW factor with the visuals.
For those wanting more freedom with outdoor performances I do have totally portable PA and lighting setups meaning I can provide outdoor entertainment in the most remote locations (*timescales prohibiting) and it means guests can stand and mingle a little more freely with their drinks. 
My proposal for anyone getting married before 21st June 2021. If you want to book us for your wedding date you can do so with a ZERO deposit or booking fee and the final balance will be due the day before the event. If at any point before the booking restrictions are lifted, you can upgrade your existing booking to include more elements or simply cancel us up-to the day before with no penalty. My hope with this is that it will help you support fellow industry colleagues such as DJs, Bands etc that may have already been booked.
This proposal can be applied with the following discounts and adaptations to the packages and prices mentioned in our current package brochure.  Mileage fees may apply.
Daytime Entertainment – Choose 4 sets instead of 3 for the same price. Offer Price £695
Solo Evening Entertainment – includes a £250 discount to replace the DJ elements for a playlist service and a smaller lighting show rig. Offer Price £645
Day (3 sets) & Night Solo Entertainment – Replacing the DJ elements for a playlist service and a smaller lighting show rig. Special rate of £950