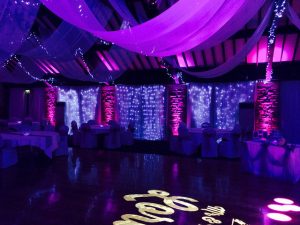 Alex is proud to offer the very latest in LED Mood Uplighting as a bolt on for the Gold package or above.
They are completely wireless with a battery life of up to 12 hrs making them some of the best lights on the market. They can produce any static colour or set to fading / programmed cycles.
Totally transform your room and bring it to life with these fantastic LED uplights.
Key features of this lighting:
Wireless operation, no taped trailing power cables
Easy, fast installation (typically less than 5 mins)
Any colour that you require
Fully Health & Safety / PAT compliant
Low cost / high impact
This service is provided by our hire company FAB Events. To add on to an existing booking with Alex see the bolt on prices or for a standalone hire please see the Wireless Uplighting details on the FAB Events website.